The 2021 Subaru Love Promise Community Commitment Award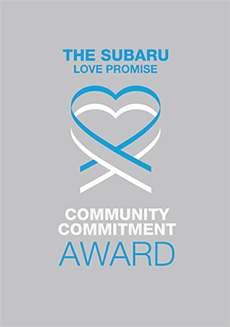 We've been nationally recognized for our dedication to our community and the Subaru Love Promise.
We're honored to receive the 2021 Subaru Love Promise Community Commitment Award. This award nationally recognizes Subaru retailers who are making the world a better place while demonstrating an outstanding commitment to supporting passions and causes in local communities. These efforts are focused in important areas such as the environment, community, health, education, and pets.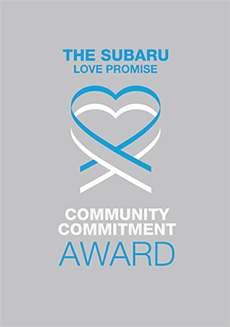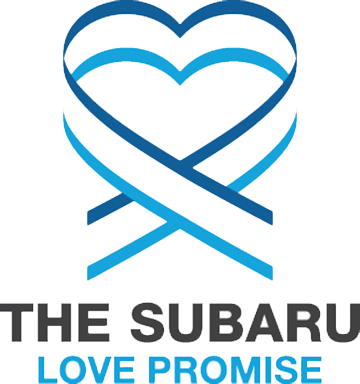 What is the Subaru Love Promise?
Subaru and our retailers believe in making the world a better place and the Subaru Love Promise is our vision of respecting all people. This is our commitment to show love and respect to our customers and to work to make a positive impact in the world.
How is Thomas Cumberland Subaru dedicated locally to the Love Promise?
Our Love Promise can be seen in various partnerships with local charities and non-profits. We're grateful for the opportunity, not only to be a part of our community, but to serve it as well.
Tri-State Toys for Happiness
Love Promise Stories from Thomas Cumberland Subaru
Subaru and Thomas Cumberland Subaru believe in making a positive impact on the communities in which we live and work. We uphold that belief through our Love Promise Community Commitment. Every month, we select inspiring stories from customers and partners from around our area who strive to support our collective commitment and feature them here
Share the Love Event 2020-Allegany County HRDC - Wendolyn M
As the designated Community Action Agency (CAA) and Area Agency on Aging for Allegany County, Maryland, the Allegany County Human Resources Development Commission, Inc. (HRDC) was honored to be named the Hometown Charity by Thomas Cumberland Subaru and Subaru of America, Inc. for the 2020 Share the Love Event. The mission of HRDC is to eliminate social and economic barriers to promote individual and community stability through services, advocacy, and collaboration. In 2020, HRDC celebrated its 55th year of continuous operation for the non-profit organization, and with funding received from a variety of sources including Federal, State, Local Government, private funds and donations, such as the Share the Love Event, HRDC was able to provide needed services to 24,394 residents. Throughout the COVID 19 Pandemic and with the support from the Subaru Share the Love Event the dedicated staff of Allegany County HRDC continued to provide much needed essential services to the residents of Allegany County through our numerous programs providing housing and community resources, child and family services, as well as services provided to the aged and disabled. Thank you Thomas Cumberland Subaru for your consideration, compassion shown and support given to Allegany County HRDC.
---
Thomas Spreads Warmth to the Community - Emily W
Thomas Subaru donated 80 blankets to the Union Rescue Mission of Western Maryland, which provides shelter and hot meals to those in need in the Cumberland area. As we enter the season of giving and as nights get colder, Thomas Subaru wanted to do their part in making a difference to those who need help. In November, as part of Subaru Loves to Help, Subaru and it's retailers donated 50,000 blankets to homeless shelters across the country.
---
TC Team Walks Shelter Dogs! - Emily W
The team at Thomas volunteered to walk shelter dogs from Allegany County Animal Shelter on National Make a Dog's Day, October 22nd. The pups were thrilled to get some exercise in the area surrounding the shelter, as well as lots of love and treats. Allegany County Animal Shelter welcomes volunteers to take part in their various programs to get the dogs out and about!
---
Share the Love 2019 - Cathy G
Thomas Cumberland Subaru and Subaru of America, Inc. through the Share the Love Event cared enough and reached out to help children. Thomas Cumberland Subaru and The Children's League joined in working together to make a difference in the lives of children. The proceeds from the Subaru Share the Love Event gave tremendous financial support to The League and their mission of caring for and serving children with a focus on special needs. Being passionate about children and compassionate about their care is what The Children's League is all about. Through the Share the Love Event Thomas Cumberland Subaru mirrored that same compassion and love for children. Their support helped The Children's League in caring for over 500 children in 2019. Children with an orthopedic, cerebral palsy, cleft lip/palate, speech-language disorder or physical therapy need are served and cared for at The League. Seeing that happen each and every day makes caring for children so very special, but being able to make that happen each and every day makes The Children's League who we are today. Because of the financial support from Thomas Cumberland Subaru and the Share the Love Event, The League was able to continue what they love to do and that is caring for and serving children. Thank you Thomas Cumberland Subaru for reaching out, for caring, and for supporting The Children's League.
---
Monumental Music! - Emily W
This year for Presidents' Day, Thomas Subaru in Cumberland hosted a Drive 4UR Cause Event, where a simple test drive helped raise money for local high school music programs. A total of $10,000 was donated around the region between all 4 Thomas Automotive dealerships. The event generated a lot of buzz and it was wonderful to see the community turnout in support of their desired high school band program. Thomas Subaru in Cumberland proudly presented checks to Allegany High School, Fort Hill High School, Frankfort High School, Keyser High School and Mountain Ridge High School. What a great way to give back to the communities the dealership serves!
---
Community Pet Vaccination & Adoption Event - Emily W
On Saturday, August 24th 2019, Thomas Subaru of Cumberland opened it's doors to offer free rabies vaccinations and microchips to pets in need in the community. A strong partnership with the Allegany County Animal Shelter and an on-site vet, Dr. Kara Miller, helped make this event possible. The showroom was completely filled with eager owners excited for the chance to care for their pets at this free event. Light refreshments, free pet ID tags, adoptable dogs and cats from the shelter and more were also available. Over 75 pets received rabies vaccinations with some being microchipped as well. It was a successful event that Thomas Subaru of Cumberland was happy to offer to the community!
---
Thomas Cumberland Delivers Warmth to Schwab Center - Jillian J
On Monday, July 8th, The Leukemia & Lymphoma Society's (LLS) Maryland Chapter and Thomas Cumberland Subaru had the pleasure of delivering 80 blankets to the Schwab Family Cancer Center as part of the Subaru Loves To Care program. These comforting gifts were accompanied by personalized messages of hope written by the customers and staff of Thomas Subaru of Cumberland, as well as over 200 tote bags. Representatives from Thomas Cumberland, the Western Maryland Health System, and the Maryland Chapter of The Leukemia & Lymphoma Society were present during the blanket delivery. Thomas Cumberland General Manager, Shelly Gray, and her team from Subaru had the honor of hand-delivering blankets and messages of hope to patients in the infusion center of the Schwab building. It was also especially meaningful for LLS Campaign Manager and non-Hodgkin survivor Jillian Joseph, and LLS Volunteer Margaret "Penny" Campbell, to be a part of the delivery – Penny is both a former WMHS employee and blood cancer patient. This incredible act of generosity was warmly received by WMHS Foundation's Development Coordinator, Lisa Hout, Executive Director of Cancer Services, Ben Kosewski, and Schwab Family Cancer Center staff members Nicki Thompson and Justin Dom. Many thanks to everyone at Thomas Cumberland Subaru and the Schwab Center not only for a memorable day, but for supporting LLS's mission to cure blood cancers and improve the quality of life of patients and their families.
---
Share the Love 2018 - Emily W
On April 16, 2019, Thomas Subaru of Cumberland was honored to present the 2018 Subaru Share the Love check to The Holding Hands for Haley Foundation. The donation from the event was the single largest monetary donation the Foundation has received. It's a wonderful feeling to share support and love within the community! Pictured: Shelly Gray of Thomas Subaru, Tom Dunnington of Subaru of America, and Buddy House and Angie Patterson of The Holding Hands for Haley Foundation.
---
Test Drive Event to Fight Pediatric Cancer! - Emily W
Thomas Subaru of Cumberland teamed up with The Holding Hands for Haley Foundation to host a test drive event at the dealership. The Holding Hands for Haley Foundation is a local organization that provides hope for families of children fighting cancer by raising awareness and funds for research. During the event, Thomas Subaru of Cumberland made a donation to the foundation for each test drive that occurred. It was a great day of raising money and awareness to help fight pediatric cancer! To find out how you can help make a difference, visit The Holding Hands for Haley Foundation online: http://www.holdinghandsforhaleyfoundation.org/
---
Family Fun & Safety Day 2018 - Emily W
This summer, Thomas Subaru of Cumberland hosted its second annual Family Fun & Safety Day. We partnered with other great businesses in the community to organize this free event on our lot at the dealership. This year's event was a huge success! There were tons of games for kids, an inflatable bounce house, face painting, and even ponies for instructional rides. The MD State Police were onsite, along with a firetruck and free fingerprinting services. Top it all off with free food, drinks, and ice cream! Thomas Subaru is proud and appreciative of the mutual support in our community. It feels wonderful to be able to give back to the folks in our area and we look forward to continuing this event! A big THANK YOU again to this year's sponsors: MD State Police, LaVale Fire Department, Spring Gap Farm, ProCare Fingerprinting Services, the Cumberland YMCA, Bishop Walsh School, Planet Fitness in Cumberland, Jump Around LLC, M&M Bake Shop, Chick-fil-a in Cumberland, Queen City Creamery & Deli, Subway in LaVale, and Domino's.
---
Thomas Subaru Delivers Hope to Cancer Patients - Breanna S
Patients at UPMC Bedford Memorial's cancer center on July 11 were overjoyed to receive a surprise courtesy of Thomas Subaru. The Bedford-based dealership donated 80 blankets and 50 arts and crafts kits to help make treatment a little easier for oncology patients. Thomas Subaru staff members Cheyanne Claar (Internet Sales Consultant) and Clifford Cogan (Subaru Service Advisor) delivered the items to UPMC Senior Practice Manager Clinton Dull, who passed out the gifts to patients later that day. Hospital staff were surprised and delighted to receive the donation. One staff member talked about why he already was a fan of Subaru: years ago, when his car broke down in front of a Subaru dealership, the sales team helped to push his car onto the lot and got him in a new Subaru that very day. Knowing how happy the blankets and craft kits would make the patients, though, showed him that Subaru and their retailers truly believe in making a positive impact in the community. The dealership was inspired to participate in this program, which partners with The Leukemia & Lymphoma Society (LLS) on the deliveries, after a Thomas Subaru staff member lost a friend to blood cancer. She saw first-hand how his passing not only affected his family and friends, but had a ripple effect throughout his community.Thank you, Thomas Subaru, for partnering with LLS and UPMC Bedford Memorial for this donation. You have our sincere gratitude for bringing hope and warmth to cancer patients and survivors.
---
Spreading Warmth and Hope One Blanket At A Time - Sheronda B
Courtney Haberlein, Shelly Gray, and Chris Carpenter of Thomas Cumberland Subaru teamed up with Sheronda Booker of the Leukemia & Lymphoma Society – Maryland Chapter to donate 83 blankets, 103 heartfelt messages of hope, and 11 arts and craft kits to the Schwab Family Cancer Center at Western Maryland Health System for cancer patients. Patients that were present and receiving treatment were all presented with a blanket for comfort and warmth. One patient, Bonnie Wilson received a soft blanket and care card from Chris Carpenter, Thomas Cumberland Subaru. She was very grateful for the gesture and thanked him for the smiles which helps while going through her cancer journey. https://www.facebook.com/ThomasCumberland/photos/a.146840245383848.30591.131389090262297/1439546059446587/?type=3&theater
---
Subaru Share the Love - Nick S
Tri-State Toys For Happiness, Inc. is the hometown charity for Thomas Subaru this year. They strive to provide a Christmas for underprivileged children in the tri-state area. From now until January 3rd, if you purchase or lease a new Subaru, they will donate $250 to either Tri-State Toys For Happiness or one of their national charities. The national charities this year are ASPCA, Make-A-Wish, Meals on Wheels America, and National Park Foundation. This holiday season, put a little love into people's hearts.
---
Subaru Loves Pets - Nicole S
The month of October has been named Subaru Loves Pets month. Until the 31st, Thomas Subaru will be collecting donations that will go to the Bedford County Humane Society. The BCHS is always seeking help from rescue organizations to place animals in loving homes. Subaru is asking for donations from the list provided to help out as many of these animals as we can. All donations are welcome and you can even take away a free gift with your donation while supplies last! Thank you for helping us to care for the pets in our community!
---
Share the Love at Christmas - Chuck K
Because of the national Subaru " Share the Love" event, and our local sponsoring dealership, Thomas Subaru of Cumberland, our organization was able to help almost 2000 children. Tri-State Toys For Happiness, Inc. was able to "Share the Christmas Love" in our area. The donation from the event was our largest single monetary donation we received. It went a very long way toward the toy and gift purchases for the children of the tri-state area. We purchase toys and gifts year-round so the timing of the check presentation works out extremely well. Working with both Subaru and Thomas couldn't be any more pleasurable. Thomas of Cumberland has become one of our biggest local supporters.Our organization looks forward to a continuing relationship with Subaru and Thomas Subaru of Cumberland. From our entire Toys for Happiness organization we thank you.
---
Subaru Loves Learning Book Drive - August 1-31 - Molly M
Join us in our Subaru Loves Learning initiative during the month of August! We are partnering with the American Association for the Advancement of Science (AAAS) in donating science books to the Allegany County Public Schools. All of the books that will be donated have been recognized by AAAS as some of the best science books in their field. Contact us to learn more information.
---
Successful Partnership with Thomas Subaru - Chuck K
Thomas Subaru chose Tri-State Toys for Happiness as the Hometown Charity during the Subaru Share the Love Event 2014. It was the second year for the partnership and was really successful. The total donation from Subaru was $11,814. Thomas Subaru also made an additional donation by holding a test drive event and making donations for each repair order during the event. Toys for Happiness helps many families in the area. Thomas Subaru is happy to be able to be able to help.
---
Successful E-Waste Recycling Event - Shelly G
I am Shelly Gray, Director of Marketing at Thomas Subaru in Cumberland, Maryland, and I wanted to share a little about the April event we held here at the dealership. We participated in the Subaru Loves the Earth E-Waste Recycling Event, and it was a huge success! During the month of April, our dealership was a collection location for electronics that were outdated, no longer needed or wanted, or broken. We had such a great turn out. As you can see in the photo, we quickly filled the collection boxes and had electronics covering an entire corner of our showroom. It feels really great to be able to be a part of community events like this. We look forward to participating in future events.
---
April 1-30, 2015 E-Waste Recycling Event - Molly M
Throughout the month of April, we are hosting an E-Waste Recycling Event in our store to collect unwanted electronics. We've arranged to work with a company who will responsibly collect, re-purpose, and recycle your electronic waste. Help us protect our environment. Just show up with your E-Waste and we'll do the rest! The first 50 customers who contribute will receive a complimentary environmental badge of ownership. We will accept: LCD Monitors, Cell Phones, Laptops, Tablets, CRTs up to 40 inches, Video Games/Consoles, Fax Machines, DVD/VCR Players, Printers, Computer Peripherals, Switches/Routers, Cords and Wires.
---
Donates Car to Purcellville Family - Jay and Kelly H
Leesburg Dealership Donates Car to Purcellville Family Just after a Purcellville family became unexpectedly pregnant with triplets, the family also lost their main source of income. Stressed about not having a car to accommodate their growing family and not having the money to buy a new car, the family reached out to a friend who then reached out to Jeff Collins, Controller of Dulles Motorcars. Collins spoke to the owner, Kevin Saghafi, and the next day Dulles Motorcars gave the Purcellville family a large van to accommodate their soon-to-be large family.
---
Supporting Western Maryland Jaycees Community Initiative - Joe C
Hello my name is Joe C. and I would like to take a moment to recognize and thank Thomas Subaru of Cumberland, Maryland for all that they do for the community. I am a proud member of the Western Maryland Jaycees; our mission is to be recognized and respected as the premier group of young professionals in Western Maryland by demonstrating leadership and positive change within our community. We do many things in the community, for example every December we put on our Christmas Shopping Tour. Each year we have the honor of taking underprivileged children from the area shopping for new clothes for Christmas. We allot a specific dollar amount per child to spend so that they are able to get new shoes, clothes, coats, socks, etc. After a day of shopping, we host a party with crafts, games, music and Santa. It truly is an amazing and rewarding thing to see the look on the children's faces when they are told that they can pick out whatever clothes they want. It's very touching. With the support of Thomas Subaru we are able to host events to help raise money for such programs like Christmas Shopping Tour. I personally had the opportunity to work with Thomas Subaru for our Western Maryland Jaycees Executive Golf Classic and for the Thomas Subaru Tri State Wing Off. This was a huge help because that money allowed us to pay for entertainment and other costs for the event. Thomas Subaru of Cumberland is a class act and a true community partner!
---